I never stole NASS mace, Omo-agege cries out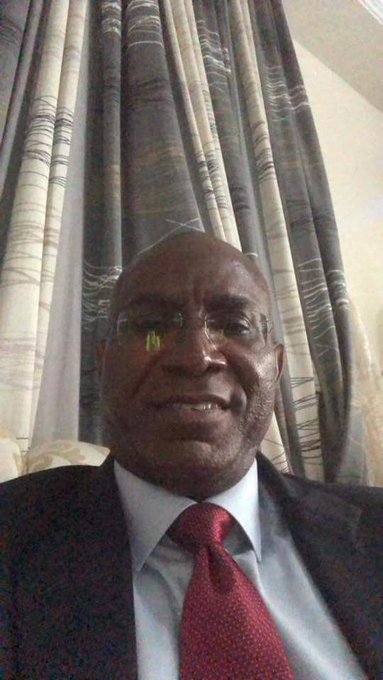 The suspended senator, Omo-agege after being interrogated by police who burgled him away from Senate Chambers
...says he was invited by police not arrested
By Usman Kasali/Kparobo Ehvwubare
Suspended Delta Senator, Mr. Augustine Ovie Omo-agege on Wednesday evening stealing or aiding the stealing of the mace just as he lamented the way media indicted him for being behind the theft of the mace of the Nigerian Senate.
Delta suspended senator, Ovie Omo-agege, being burgled out of senate chambers by armed security men
The NASS mace that was forcefully taken away by hoodlums suspected to be loyal to the Mr. Omo-agege, who invaded the Senate chamber on Wednesday morning at about 11: 15am while the Senate was in plenary.
"We are aware of several media reports suggesting that Senator Omo-Agege personally removed or encouraged anyone to remove the mace of the Senate. This weighty allegation is not true at all," Omo-Agege's media office stated in a statement on Wednesday evening.
Suspected thugs loyal to Omo-agege zooming off with the mace from the senate Chambers
Sunreporters correspondent
reports that the thugs stormed the chamber with the senator who was suspended for 90 legislative days on April 12 for taking the Senate to court over an internal legislative issue.
However, Omo-Agege insisted that he knew nothing about the theft of the mace, the symbol of authority of the Nigerian legislature. He explained that he was in the Senate on Wednesday morning to resume in spite of him being suspended.
"Senator Omo-Agege today resumed work and sitting with his colleagues," the statement continued, adding that "a few champions of the unconstitutional, invalid and tyrannical suspension tried to stop him but those who opposed it welcomed and protected him throughout the sitting."
The suspended senator, representing Delta Central at the red chambers also claimed that he was not arrested but invited by the Nigerian police who wanted him to assist with their investigations.
"Following media reports on the mace issue, the Police decided to hear from Senator Omo-Agege," the statement reads. "He has told them his perspective to help them carry out a proper investigation. He has since left the Police. He trusts them to thoroughly investigate this very serious matter.
Our Abuja correspondent reported that Mr. Omo-agege was burgled into police hilux with registration number NPF 840, few minutes after the incident by men of Nigeria police force led by Commissioner of Police in-charge of Abuja, accompanied by other security agencies where they zoomed off to the police Station with Omo-agege.
After Omo-agege suspension, vowed to make the senate chamber uncomfortable for the Nigerian senators if they refused to recall him back to plenary, a development that led to his arrest, after the incident where thugs suspected to be loyal to the suspended senator carted away the senate mace which is the symbol of authourity.